Davidson Endowed Professor of Education and Technology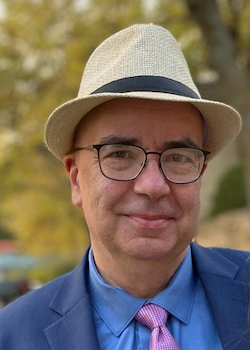 Pepperdine's very own Dr. Eric Hamilton has been selected to serve as the Davidson Endowed Professor of Education and Technology for a year long term beginning this August, 2021. Candidates were evaluated by a three-member panel which consisted of Dr. Lisa Perrin, an EdD graduate from GSEP; Ms. Katy Carr, Assistant Provost for Research and a leader in learning technologies; and Dr. Robert deMayo, Associate Dean of Psychology.
Candidates were considered for their vision and achievements across 7 different categories consistent with the intent of the endowment. These categories included:
Breaking barriers of classroom walls with electronic networking
Providing connections to the larger professional community of educators
Providing avenues that would enable reflection among educators so that construction of learning could occur in collaboration with peers
Allowing educational scholars to work together to envision future software applications for tools that support learning, including an innovative curriculum
Promoting research in technological advancements through grants and published research in the field
Supporting scholarship in learning theory and technology
Advancing the practice and application of learning technology at Pepperdine University and elsewhere
Leading or participating in innovative curriculum development practices
Dr. Hamilton has demonstrated exemploratory distinction in various leading efforts including International Community of Collaborative Content Creation, forming and leading the research network between the U.S. and Finland on learning science research, serving as a Fullbright Research Fellow focused on learning technologies in Namibia, and leading as a senior program officer for UNESCO in Geneva, and secured extensive research grants for GSEP.
Congratulations Dr. Hamilton!