Core Strength: Alumna Leads Way for Math Success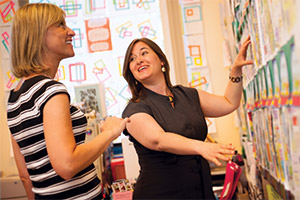 Across the country, 44 states and the District of Columbia have voluntarily adopted the Common Core State Standards for education. The goal of Common Core is to better prepare students for college and careers by raising students' proficiency in math and literacy in language arts.
"We're getting into the age where kids need to not only demonstrate competence with computation and procedural mathematics, but also articulate their reasoning," said Carrie Mitchell (EdD '07), program director for Swun Math. "They need to be able to see mathematical relationships, and they need sentence frames to begin explaining what they know and how they know it."
Mitchell, who was a school principal for 10 years in Garden Grove, California, saw firsthand how student performance could improve with a different style of instruction, long before Common Core was developed. When she took over at Clinton Elementary School, the district was already in the process of implementing a new approach to teaching math, a program called Swun Math.
"Many of the elements of Common Core fit naturally within the Swun Math lesson design," said Mitchell. "Articulating math reasoning is a big part of our philosophy and has been built into our curriculum from the beginning."
Si Swun, a math teacher from Long Beach, California, was an immigrant English learner who struggled with math as a child. He used his personal experience to combine American learning techniques with instructional methods used in Singapore, a leader in math achievement, to increase student success in his classes.
Eventually, Swun was asked to expand his model across several schools. In an article in The Atlantic from January 2014 titled, "The Common Core Is Tough on Kids Who Are Still Learning English," writer Pat Wingert said, "Both Common Core and Singapore-style math emphasize a deep study of the most basic elements of math before moving on to more advanced math. Swun Math also encourages collaboration and talking through the problem-solving process."
Click here to read the full article.
To learn more about Swun Math, visit swunmath.com.
To read the aforementioned article in The Atlantic, visit bit.ly/SwunAtlantic.