TESOL Newsletter - Issue No. 2

Welcome
Welcome to 2022! With the new year comes a buzz of excitement as Pepperdine gears up for another semester on the beautiful Malibu campus. We are pleased to bring you this next TESOL newsletter, featuring more interviews, more pictures, and more celebrations of achievements in our TESOL community. In this issue, you will find an interview with TESOL alum, Sussi Shan Lu, who is currently an English teacher in China, as well as spotlights on three of our very own TESOL candidates who will be presenting their research at the annual TESOL International Convention and English Language Expo in Pittsburgh, PA. We are so proud!
New years often come with new resolutions, new goals, new commitments to take control of our lives as we seek continual self-improvement. Whether you are thinking about applying for our MA in TESOL program, revving up for another semester, or changing the world with your TESOL degree, we hope you know that we are always here to support and encourage you on your journey. Please don't be a stranger to us in the TESOL program if you need help organizing your workload for the upcoming semester or brainstorming classroom management strategies in your workplace. We are also just as happy to chat with you as we want you to know that we see you and hear you in challenging times such as these.
With that, I wish you a Happy New Year, or as we might say around the world (and can you guess the languages?):
Bonne Année / ¡ Feliz Año Nuevo! / سال نو مبارک / あけましておめでとう / Frohes Neues Jahr / 新年快樂 / S novym godom / 새해 복 많이 받으세요
With gratitude,
Kevin Wong, Ph.D.
TESOL Chair
---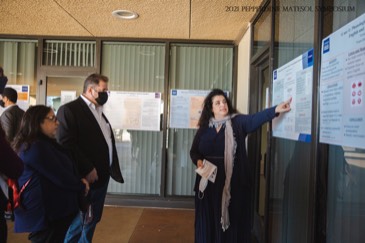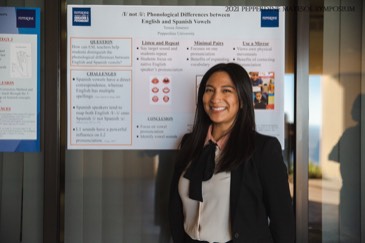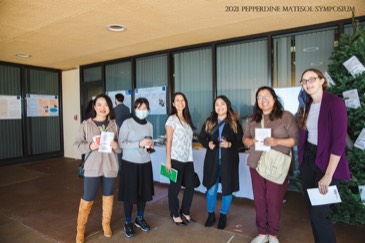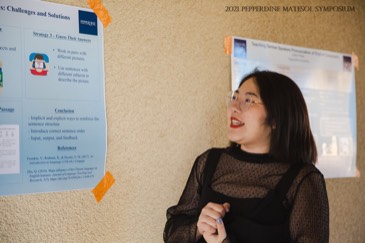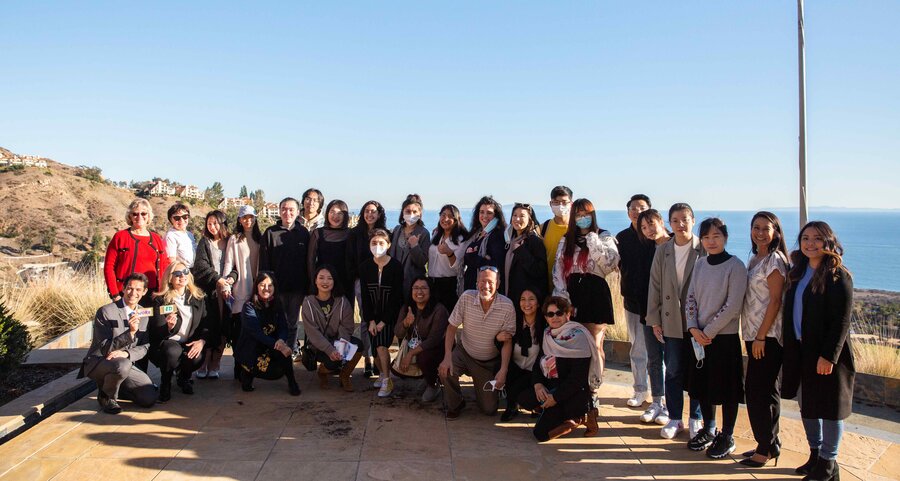 ---
Life At Pepperdine
What's Happening On Campus
December 17, 2021, was Pepperdine TESOL's annual Fall Symposium on Opportunities and Challenges in English Language Teaching. It was a truly inspiring event as TESOL candidates presented stunning, research-informed, practitioner-oriented posters about key issues and challenges in TESOL education.
Faculty, friends, alumni, and family showed up at the beautiful Malibu campus for the event, supporting, encouraging, and learning from our candidates who effectively communicated their research topics and engaged audience members in thoughtful dialogue. Well done, TESOL candidates!
---
Current Student Perspectives
By Dr. Kevin Wong Featuring Zoya Medov, TESOL '22
We had the opportunity to check in with Zoya Medov, a current TESOL student at Pepperdine, about her first semester here in Malibu.
Kevin: Thank you for taking the time to share about your experience as a TESOL student with us, Zoya! Could you briefly tell us about yourself?
Zoya: I am Zoya Medov; I was born in the Republic of Bashkortostan in Russia. Bashkortostan is a fairly large state, almost as big as the state of Texas. At the age of 14, upon winning a competition in the German language among many other students from different cities in our Republic, my parents decided to send me to Germany to continue my education and experience a more advanced and open culture. What I know now is that as a teenager, you are more observant about cultural differences. This experience had a tremendous effect on my life decisions, especially regarding my career. It triggered my desire to become a language teacher, which allows me to help others in need to improve their lives while I have the pleasure of experiencing my students' different cultures.
Kevin: What an amazing journey you have been on! We are so grateful to have you here with us at Pepperdine. Can you believe it's already been one semester?! I would love it if you could share with us one of your favorite things about Pepperdine so far.
Zoya: The first semester seems to have gone by so quickly! I was lucky enough to be admitted as a student at Pepperdine, and to be honest, before starting the TESOL program, I was a little nervous, especially with the ongoing pandemic. As the semester progressed, I began to feel less intimidated due to the exceptional support from my professors and fellow students
Pepperdine made me feel like I was in a family environment; it offered a lot of social support, connections, and a feeling of belonging. Due to the high standard curriculum and this friendly atmosphere, we successfully accomplished our educational goals. Our professors taught in a way that engaged the class and helped us maintain our focus in the classroom. From my previous experiences with other schools, e.g., University of Las Vegas, UCLA extensions, and Stanford continuing education courses, I have found that the Pepperdine TESOL program has best supported me in learning and preparing me to become a more effective educator in teaching English as a second language.
Kevin: I'm so grateful for your reflections on belonging. It's so important for us to build one another up, especially with an ongoing pandemic happening. I have another question: Besides your favorite thing about Pepperdine, is there anything that has surprised you since coming to Pepperdine?
Zoya: When I came to Pepperdine, I thought I was one of the greatest teachers! When I started the course, I was humbled. The professors challenged my knowledge and made me realize that I had a lot to learn. I realized that the biggest room in the world is the room for improvement. Pepperdine is committed to using the latest tools so that students can be well prepared and successful for their future careers.
Kevin: Well I must agree with you on the need for continual reflection to improve our craft of teaching! I also wanted to bring up some of your wonderful successes with research since joining us at Pepperdine! Could you tell us a little about your poster presentation at the Fall TESOL Symposium and also share about your upcoming poster presentation at the TESOL International Convention in Pittsburgh, PA, in March?
Zoya: My poster presentation at the Fall TESOL Symposium was very successful. In my opinion, poster presentations are a great way to express your ideas, research, and findings to your audience. The poster illustrates the meaning behind what is being expressed by the presenter. Additionally, it invites participants and viewers to get involved in the discussion of the subject. Due to my positive experience presenting at the Fall Symposium, I feel more confident to present at the TESOL International Convention in Pittsburgh, PA. I also feel very excited to present my work and findings at the biggest conference in our field. Additionally, I am looking forward to learning new methods and innovative techniques in the ESL field and looking forward to observing what this conference has to offer as well as making connections with colleagues from all over the world.
Kevin: We are so proud of you and know you will do wonderfully in Pittsburgh! And we haven't even talked about your impressive linguistic repertoire as a speaker of English, Russian, and German! With your clear love for languages, what is one thing you hope to do after earning this MA in TESOL degree?
Zoya: With the knowledge that I will gain from the TESOL program at Pepperdine University, I will undoubtedly become a better educator and a highly effective ESL instructor. I am eager to pass on my experiences and my knowledge of language combined with my passion to my future fellow students. My goal is to help my students become more successful in whatever they dream of and hopefully make their dreams and goals a reality.
Kevin: Thank you so much, Zoya, for taking the time to chat with us! It's a dream-come-true to have wonderful students like you in our program. We are so grateful our paths have crossed here at Pepperdine!
---
TESOL Article: Hot Off the Press
In a recent issue of the TESOL Journal, Youngjoo Yi and Jinsil Jang (The Ohio State University) published an article entitled, "Envisioning possibilities amid the COVID-19 pandemic: Implications from English language teaching in South Korea."
With a new wave of school closures and remote teaching worldwide, this important article examines how two elementary school English as a foreign language (EFL) teachers in South Korea offered video-based EFL lessons for their elementary school students. Despite stated challenges, Yi and Jang found two hopeful possibilities for English language teaching amid the COVID-19 pandemic. First, teachers demonstrated a translingual approach (Canagarajah, 2013) towards their teaching that embraced students' developing linguistic repertoires. Secondly, the teachers provided opportunities for collaborative teaching practice between native English-speaking and nonnative-English-speaking teachers in EFL contexts, negotiating different teaching philosophies and methods for online instruction. Both of these findings are clearly demonstrated in this video lesson from the two teachers, Ms. Banahan and Ms. Oh.
---
Community Shoutouts
We are proud to share that three of our current MA in TESOL candidates will present their research at the annual TESOL International Convention and Expo in Pittsburgh, PA. Learn more about these outstanding candidates and the interesting research they will be sharing with the community below. #GoWaves #PepperdineTESOL
"Safeguarding Equity in the ESL Classroom Through Intentional Technology Integration" by Alexis Hopwood (TESOL '22)
While technology integration in the ESL classroom is proving more essential, given recent global changes, it can elicit challenges to maintain equity in the educational environments. Little research has been done in exploring the relationship between socioeconomic status (SES) and students' access to technology, and students' overall performance in technology-aided courses. It is paramount for educators to not only integrate technology in their classrooms, but to do so intentionally so as to maintain and safeguard equity amongst their students. Every student deserves a safe, tech-assisted, and equitable learning environment, regardless of socioeconomic status. This poster posits that while it proves difficult to balance technology integration and equity in the classroom, there are steps educators can take to best assist their students as they navigate the effects of ever-changing global events.
"Case Study of Popcorn Club as An Advanced English Community" by Yuehan Hu (TESOL '22) and Zoya Medov (TESOL '22)
Yuehan: My poster with Zoya is a case study named Popcorn English Club based in Shanghai, China. Chinese students are a massive population of ESL students, and they face challenges in oral English.
Zoya: Our poster analyzes an advanced English Community case named Popcorn Club and explores its valuable strategies to build a constructive and productive English Community. English-speaking practice plays an imperative role in oral English development. However, for many English Learners (ELs) it is not easy to practice their oral English skills. We introduce an effective platform that meets ELs English-speaking needs.

---
Spotlight
Alumni Interview with Sussi Shan Lu (TESOL '19) and TESOL Faculty, Dr. Weina Chen