TESOL Newsletter - Issue No. 3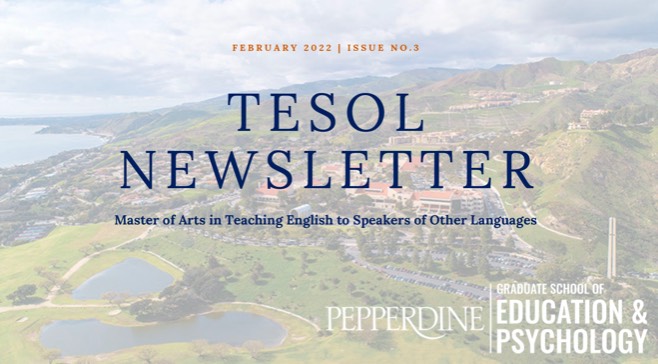 Welcome
They say February is the border between winter and spring, which aptly reflects our February at Pepperdine as students, faculty and staff wear multiple hats and constantly move from one place to the next.
This February issue of the Pepperdine TESOL newsletter is an honest snapshot of what "the juggle" looks like for TESOL students as they balance school, work, family, and fun. We are unofficially calling this issue "What life is REALLY like at Pepperdine."
Below, you will find a collection of photos taken by our current TESOL students. Together, they represent a collage of dynamic experiences in Malibu and beyond, with boba tea after class, late night study notes, winter road trips to Solvang and Lake Tahoe, local visits to the Museum of Natural History or Alumni Park, and much, much more. We then interview Ms. Liliana Perez, an exemplary student in our program, who candidly shares about how she balances work with school and a long commute. Don't forget to listen to our alumni interview with Ms. Eve Wu who shares about how the relationships she developed at Pepperdine with faculty and students has shaped her as a first grade teacher in California.
We hope this issue brings back sweet memories to our alumni and sheds light on what life at Pepperdine would be like to prospective students. Alumni, please reach out to let us know how you're doing! We would love to reconnect and hear from you!
With gratitude,
Kevin Wong, Ph.D.
TESOL Chair
---
Life At Pepperdine
What's Happening On and Off Campus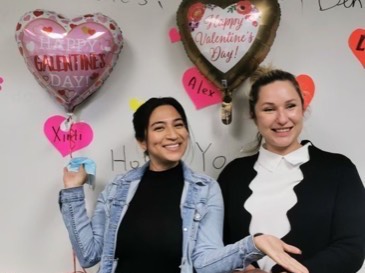 Celebrating Valentine's Day with a Valentine's Day-themed lesson demonstration.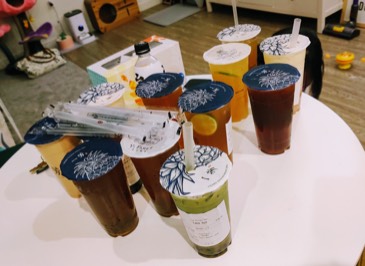 Boba tea after class one day.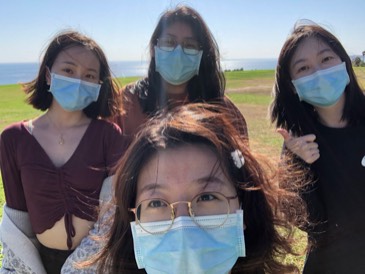 Walking through Alumni Park after class one day.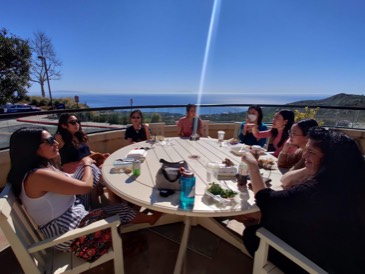 Having lunch in between classes on campus.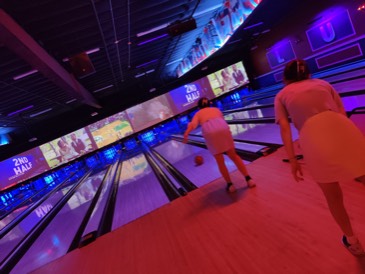 Bowling on the weekend with some friends.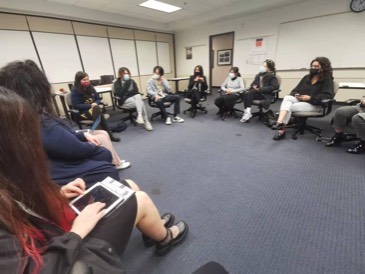 End-of-class reflection with Dr. Chen.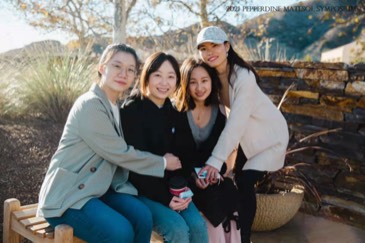 Happy pictures after the last presentation at the end of the first semester.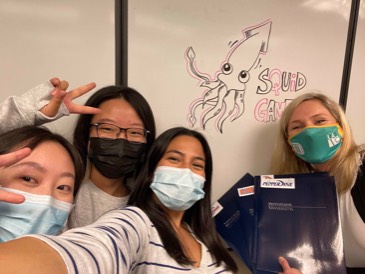 Cohort selfies!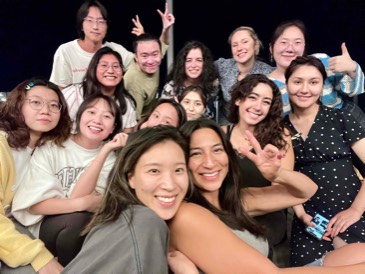 Fun outings with newfound friends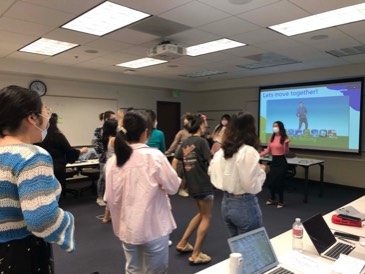 Class demonstration with dancing to learn about the present progressive tense.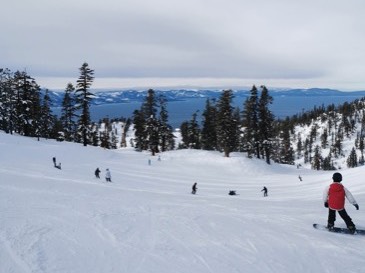 The first time skiing in Tahoe where one student was so excited that she challenged herself to try the blue line.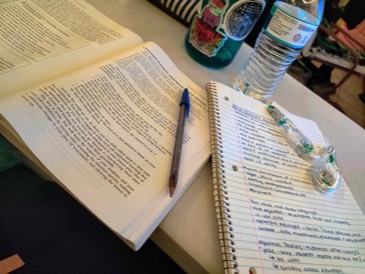 Studying and taking notes.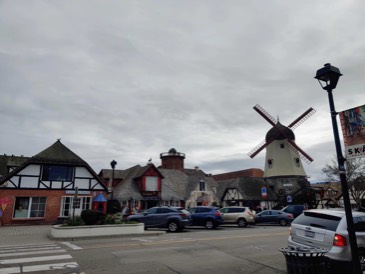 Visiting Solvang, California, with one or two friends over winter break.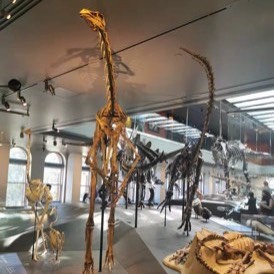 Great experience at natural history museum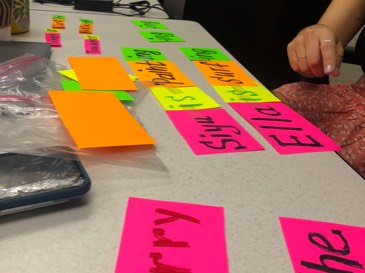 Colorful materials created to engage students.
---
Current Student Perspectives
By Dr. Wong Featuring Liliana Perez TESOL '22
Liliana Perez is a current TESOL student at Pepperdine who wears a number of hats. We are grateful we had the chance to hear from her about her experience at Pepperdine and how she juggles everything she is doing.
Kevin: Hi Liliana! Thank you so much for taking the time out of your busy schedule to share about your experience so far as a TESOL student! It's been a pleasure to have you in class and I think our readers would benefit greatly from your experience and insight! So first of all, can you tell us briefly about yourself?
Liliana: Hi, thank you for having me. My name is Liliana Perez, a first-generation Latina student and the daughter of two supportive immigrant parents from Oaxaca, Mexico. I was born in Azusa, CA where I currently reside. I am a Sagittarius and an INFJ-T if you're into those types of facts. I have to say, this has been quite the journey for me, especially with being the first one in my family to navigate this academic path and trying to figure out the ins and outs of pursuing higher education. I graduated from the University of California–Riverside with a B.S. in Anthropology and a minor in Sociology. Nearing the end of my senior year, I was conflicted about my next step. I knew I wanted to attend graduate school, but I was unsure about the type of Masters degree to pursue. I ended up taking a gap year and moving to San Jose, CA to work with City Year. I co-led an after-school classroom of first and second graders at Ryan STEAM Academy. This is where I met students who reflected a version of me growing up, the language broker who 'til this day is still responsible for helping my parents fill out documents and translate conversations. There was a student in particular who had arrived from Honduras. He struggled with English and had low native language literacy skills, making him reserved because he couldn't verbally communicate with the other students. That year I was determined to help him grow and show him he was capable of more than what he gave himself credit for. I was blown away by the progress we made and touched by this experience we shared. My parents and this student played an important role in my decision to pursue a degree in TESOL. Moving forward, I want to continue being a mentor for future newcomers and make a change, whether big or small. I hope to have the opportunity to work with refugees or immigrants on a more personal level, potentially with an NGO. I want to work with adults in the long run, but I would love to work with children first before taking that step.
Kevin: Thank you for sharing so openly about what brought you here to Pepperdine. I am grateful you've had opportunities like with City Year to discern the type of impact you want to make in this world - and what a noble goal to be working towards after Pepperdine! I know that you have a lot of other things going on as you work towards your Masters degree in TESOL. Could you share some of the other roles and responsibilities you have? And for prospective students who are interested in Pepperdine, could you share with us what your typical day and week look like?
Liliana: Of course. Well, I am also working part-time. I am a Cash Office/Store Associate. I am in charge of handling money. Meaning I prepare bank deposits, make change orders, prepare change bags for subsequent business days, track petty cash, input data using the POS store management software, and organize or complete any necessary paperwork. That is all usually done before the store opens. Afterward, I help out around the store, either in the stock room, unboxing and processing merchandise, or on the floor. I will refer to my first-semester schedule to give you an idea of how my week goes at my busiest. I rarely eat breakfast, so it's easy for me to skip it and have a snack with an earlier lunch. I try to be in bed by midnight at the latest. Wednesdays are my short workdays, so sometimes I go straight home to work on homework, go to the mall, grab boba, drive around for picture spots, or run errands. I give myself this day to be out of the house and hang out with my brother before burying myself with school work.
Liliana: Sundays are my days off so I reserve these days for any Zoom meetings needed for group projects. I try to complete as many assignments as possible; you can find me stuck to my living room sofa until I reach an appropriate stopping point. I have to say, this second semester, I'm more relaxed because I'm working 13 hours instead of 25. Other than that and a shift in class schedule, the run-down is similar.
Kevin: Wow, that is a lot that you are juggling! I have to ask the question: How do you do it all? You've done incredibly well in all your classes so far while balancing these other responsibilities - what's your secret?
Liliana: It took some time to adjust to, but once I found my pace, I stuck to it. I was literally living and breathing homework assignments the first semester. During my work breaks and lunchtime, I would read or outline my writing assignments. If something came up during the weekends, such as family events, you bet I was on my phone working on a google doc when no one was looking or talking to me. My goal each week is to be done with everything school-related by Wednesday, which I've been able to accomplish most of the time. I do try to make time to step away from my school responsibilities. Whenever I can or feel overwhelmed, I go for evening walks and runs, anywhere from 1-5 miles. Instead of focusing on my workload, I focus on my breathing and beating my running time. My commute isn't easy, especially Fridays. Those days are tough because it takes two hours to arrive on campus and two and a half to three hours to return home. You can find me on the freeway listening to paranormal/true crime English and Spanish podcasts, terribly singing to songs in English, Spanish, French, and Portuguese, or arguing with myself in Spanish. I find ways to entertain myself! It's those little moments that count and uplift my mood. I try to stay positive! Oh, no secret. A lot of it comes down to having self-control, knowing how to manage your time, and prioritizing your responsibilities. I do have to give some credit to one of my classmates, Teresa, she's always checking in on me and reminding me to stop, be a rebel, watch Netflix, or go to sleep. She really helps in keeping me sane.
Kevin: I love how you intersperse having specific, SMART goals with self care practices like walking, running and entertaining yourself! Now, thinking of folks who are interested in our program - some will have part-time jobs, some have young children to look after, some are caring for their parents: What is a word of advice you would have for people to flourish in this TESOL program?
Liliana: First and foremost, be patient with yourself. You've made it this far, so know you are capable of this and more. Everyone in this program is like a second family, we support each other and rely on one another. I encourage you to get to know your cohort and become comfortable with at least one other person, they will be your go-to person throughout the program. The professors are all understanding and flexible, so don't be afraid to ask for help or just chat. Also, communication is key. I was able to manage work life and school life because I opened up to my manager about my struggles and school experience. In turn, I gained additional support from him and he is always asking how I am managing. I can say the same about these professors, if you take the time to talk to them, you will be surprised by the wisdom and support they bestow onto you. I've never felt so loved and accepted as I do with my TESOL family.
Kevin: Thank you so much for taking the time to share about your insights and experiences with us, Liliana. We are so grateful to have you as part of our community!
---
TESOL Article: Hot Off the Press

In a recent issue of Frontiers in Psychology, Yao Zheng (Chongqing University), Shulin Yu (University of Macau), and Icy Lee (The Chinese University of Hong Kong) published an article entitled, "Implementing Collaborative Writing in Chinese EFL Classrooms: Voices From Tertiary Teachers."
Collaborative writing refers to group members working together to produce written work and holds much promise as a pedagogical tool in second language writing. Motivated by how teachers approach collaborative writing in language classrooms, the researchers employed in-depth interviews with 31 EFL teachers from 13 institutions in China to explore participants' perceptions, understandings, and practices of collaborative writing. Importantly, teachers' perceptions on collaborative writing had important implications on their decision-making and teaching behaviors. The authors give possible solutions and recommendations to uncover the potential for collaborative writing in the second/foreign language context.
The full article is available to download for free here.
---
Community Shoutouts
Ana Guzman, TESOL '21 graduate and artist-teacher coordinator at Angel's Gate Cultural Center, was recently interviewed by Rebecca Potts-Aguirre in her Teaching Artist Podcast series. Guzman talked about the importance of using the asset-based term "emergent bilinguals" to refer to linguistically diverse students in education. Click here to listen to the podcast.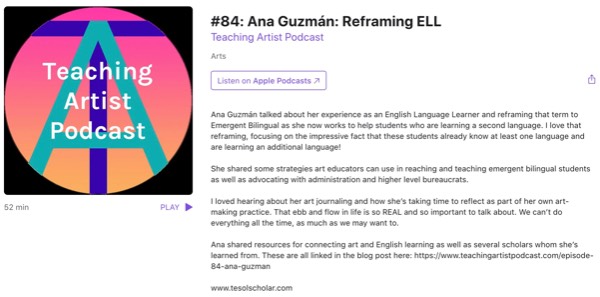 Congratulations to Julie Vad, TESOL '21 graduate, who recently began teaching at Internexus. Vad is teaching a high intermediate reading class and "decided to use Krashen's theory of pleasure reading to motivate [her] students through a book club." We are so proud of her for centering student interest to intrinsically motivate them to learn a new language.
Dr. Weina Li Chen will be presenting at the 2022 Spring CUE Conference for educators in technology in Palm Springs, California. The title of her presentation is "Technology Integration in Teaching Entrepreneurship & Design Thinking." Best of luck to you, Dr. Chen!
Dr. Kevin Wong is the recipient of the American Educational Research Association 2022 Outstanding Dissertation Award from the Early Education and Child Development Special Interest Group. His dissertation examined the potential of educational media to support bilingual word learning in preschool-aged English Learners. Congratulations, Dr. Wong!
---
Spotlight
Alumni Interview with Eve Wu (TESOL '17) and TESOL Associate Program Director, Mahsa Zojaji