Considering a Career in Marriage Counseling?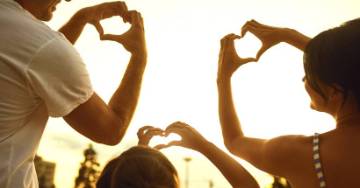 If you're considering a career in marriage and family counseling, now may be the perfect time for a career switch. Over the last few decades, there has been a rise in the number of blended families and complex family dynamics, and the need for licensed professionals to help couples tackle modern family issues is rising, too.
In 2018 the U.S. News & World Report rated marriage and family therapists among the top 5 best social services jobs. Licensed marriage and family therapists (LMFTs) are in high demand, with job opportunities increasing by 14% each year, which is much higher than average.
If you are passionate about helping people navigate complex family dynamics and overcome obstacles in their relationships, becoming an MFT might be a great fit for you. Read on to find out how you can get started with a career helping people live happier, more fulfilling lives.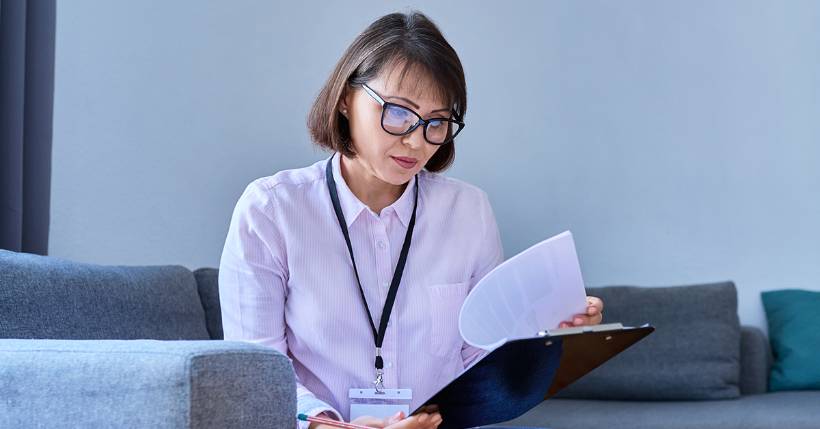 What is a Marriage Counselor?
A marriage counselor is a clinical therapist who works with individuals, couples, or families. They may offer one-on-one therapy sessions to help individuals, or they may offer group sessions for couples or families. They are specifically trained to help diagnose couples and to help them work on solutions to problems that occur in relationships. Marriage counselors help individuals and couples (and sometimes children) improve their communication skills in order to overcome relationship challenges.
The American Association of Marriage and Family Therapy describes marriage and family therapy as "brief, solution-focused, specific, with attainable therapeutic goals, and designed with the 'end in mind.'" In fact, couples and family therapy is completed in just 9-12 sessions.
Although the title is often called a "marriage counselor," or "marriage and family therapist," you don't have to be married to seek counseling from an LMFT. Anyone who considers themselves part of a couple or who needs help with a family dynamic can seek counseling, regardless of the relationship. And marriage counseling isn't just for "traditional" married couples, either. Counseling from a licensed therapist is appropriate for people in relationships of all types, and you can go to marriage counseling whether you're in a new relationship or if you've been together for decades.
Marriage counselors work in a variety of settings. Many work in private practice or in clinical settings like social service agencies or outpatient mental health clinics. They may also provide family therapy programs in community centers or family services in schools.
What Issues Does a Marriage Counselor Help Solve?
There are so many complex issues that arise in a relationship, and marriage counselors are trained to facilitate conversations around a number of issues. Some common issues that family therapy professionals help couples solve include:
communication
intimacy and sexual health
fidelity
raising children
adoption
infertility
Gender and LGBTQ issues
emotional distress
mental health disorders
substance abuse
Common Marriage Counseling Specialty Areas
There are several types of counseling that fall under the umbrella of marriage and family therapy, such as couples counseling, family counseling, or individual counseling. Each type has its own unique approach and goals. Some LMFTs choose to specialize in specific areas. Here are some common specialties that a LMFT may focus on.
Communication Issues Affecting Relationships
Sometimes, couples have ongoing communication problems that can get out of hand. They may start getting defensive or resort to non-verbal cues to express their discontent. These actions can cause negative feelings such as isolation, frustration, anger, and doubt. When these feelings persist, it can lead to greater problems like infidelity, separations, or divorces. A marriage and family counselor can help facilitate conversations and give the couple strategies for effective communication.
Conflict and Infidelity in Marriage
Infidelity is a major cause of divorce. For many individuals, infidelity is considered a "deal-breaker," but an MFT can help couples navigate this painful situation, with the goal of saving the relationship and rebuilding trust.
Pre-Marital Counseling
Whether for religious or personal reasons, some couples choose to have pre-marital counseling, where they discuss their expectations for the future with one another and explore how they plan to approach future issues that will arise in the relationship such as handling finances, raising children, intimacy, and shared values. During premarital counseling, couples learn more about one another and what they want from their future together, and they'll learn communication skills and tools that they can use in the future.
Divorce and Co-Parenting
Some families seek family counseling after they've chosen to dissolve their relationship. This is usually the case when children are involved and the parents need to agree on a co-parenting plan. This can be a difficult transition for some parents, especially when the two parents have different values or views on certain aspects of raising children. An MFT can help parents communicate with one another and resolve conflict in order to create the best environment for their children.
Trauma in Relationships
When one or both parties in a relationship have experienced a traumatic event, it can lead to post-traumatic stress disorder, which can have a strong impact on a person's ability to form and maintain relationships. Traumatic events like military deployment, natural disasters, the death of a loved one, serious illness, or domestic abuse can have a significant impact on both adults and children in the family. A therapist can help the individuals process their trauma and help the others in the family support the person through their healing.
Addiction and Recovery in Families
Substance use disorder affects not only the person suffering from the disorder, but everyone in the family, too. An MFT who specializes in addiction can help support the family members of the person struggling with addiction, teaching them how to appropriately react to their loved one's behaviors. They may also help in the process of planning an intervention or supporting the family as the loved one seeks help or rehabilitation. They can also provide ongoing support once the loved one becomes sober.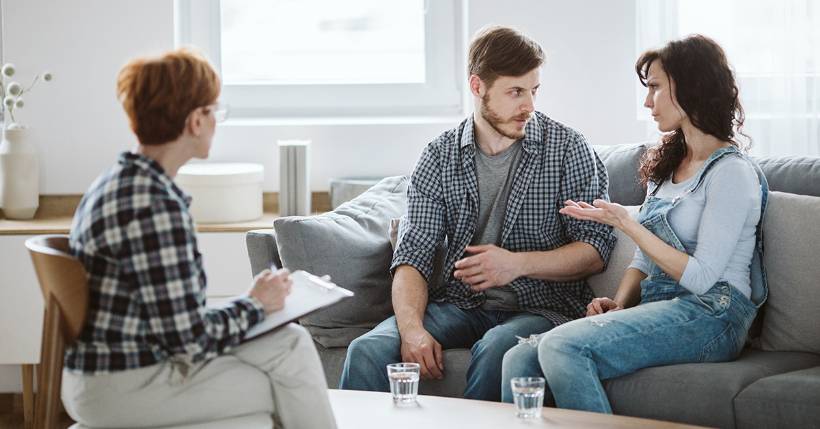 How to Become a Marriage Counselor
Licensed therapists are required to have a master's degree, and some choose to pursue a doctoral degree, too. They must also hold the appropriate licensing requirements for the state in which they wish to practice, and keep up with continuing education in order to maintain their license.
1. Get a Bachelor's Degree
You must first start by getting an undergraduate degree, preferably in psychology, sociology, counseling, or a related field. An undergraduate program in one of these subject areas will create a strong foundation for the more in-depth learning and experiences that you'll receive as a graduate student.
2. Get a Master's Degree
A master's degree is the minimum educational requirement in order to become a licensed marriage and family therapist. An MA in Clinical Psychology with Emphasis in Marriage & Family Therapy degree program will give you all the specific skills and tools that you need to specialize in working with couples and families. Your master's degree must be obtained from an accredited facility approved by the Commission of the American Association for Marriage and Family Therapy.
3. Gain Clinical Experience
During your graduate program, you'll receive clinical training to help you gain relevant experience. You'll work alongside a licensed therapist in a clinical practice who will provide feedback on cases from your placement settings.
4. Get Licensed in Your State
When you've completed your degree program and the required clinical hours, you can apply for your state-specific license. Each state has different requirements, but in all states, you'll need to pass a licensure exam.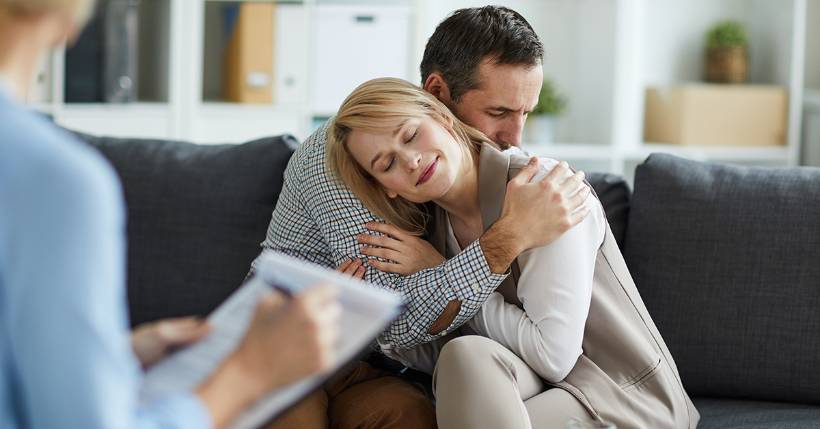 What You'll Learn With a Master's in Clinical Psychology with an Emphasis in MFT
An MA in MAT program will prepare you to serve families, couples, and individuals as a licensed marriage and family therapist. You'll receive a clinical and practice-based course of study that gives you a strong understanding of how to diagnose and treat mental health disorders, as well as explore the social and psychological implications of socioeconomics and how poverty and social stress affect the ability of individuals, couples, and families to thrive.
Here are a few areas of study that your degree program will focus on:
Diagnosing and Treating Mental Health Disorders: You'll discuss the clinical presentation, diagnosis, and treatment of mental health disorders, as defined in the DSM system, as well as a range of treatment approaches and evidence-based interventions.
Theories of Counseling and Psychotherapy: You'll examine theoretical approaches to the practice of counseling and psychotherapy, with an emphasis on the key assumptions of various applied theories, the role and basic methods of clinical assessment, the stages of therapy, the role of the therapeutic relationship, and the goals and strategies to effect change.
Research and Evaluation Methods for Mental Health Professionals: You'll study basic concepts in statistics, research design, and program evaluation for mental health professionals, with an emphasis on the use of research to inform evidence-based practice.
Human Sexuality and Intimacy: You'll study the physiological-psychological and social-cultural, systemic variables associated with sexual identity, sexual behavior, and sexual disorders.
Clinical Interventions With Children and Adolescents: You'll learn therapeutic methods relevant to the treatment of children and adolescents, along with relevant legal and ethical concerns, assessment strategies, major theoretical approaches to treating children and adolescents, and treatment strategies for common forms of childhood psychopathology.
Multicultural Counseling & Trauma in Diverse Populations: You'll study multicultural factors, including those related to race, ethnicity, socioeconomic status, spirituality, sexual orientation, gender, and ableness as they relate to individual, couple, and family treatment procedures.
Start the Journey to a Career in Marriage Counseling With a MA in MFT at Pepperdine University
If you are interested in providing mental health services to couples and families, consider becoming a licensed marriage and family therapist. Pepperdine University's Master's in Clinical Psychology with an Emphasis in MFT program can be completed in just 2 years, and you'll be on your way to a new career in marriage counseling!
To learn more about this program or to get started on your path towards becoming a licensed marriage and family therapist, attend an info session or click here to apply.