3 Reasons Why MFT is a Great Option for Career Switchers
Are you looking for a career change? If you have a passion for helping others, consider becoming a licensed Marriage & Family Therapist (MFT). These mental health professionals provide counseling services to individuals, couples, families, and groups. If this is a career path that sounds interesting to you, read on to learn more about the benefits of working in marriage and family therapy and how you can obtain a Master's in Clinical Psychology with an Emphasis in MFT.
What does an MFT do?
Marriage and Family Therapy (MFT) is a type of counseling that focuses on helping couples and families deal with problems they face together. The goal is to improve communication between partners, resolve conflicts, and strengthen relationships.
Marriage and family therapists often work with clients who are experiencing relationship issues such as infidelity, divorce, abuse, addiction, and mental health issues. They also provide support to children and adolescents who are struggling with emotional difficulties.
A MFT helps individuals and their loved ones overcome challenges and live happier lives. In addition to providing therapy sessions in a private practice, they may also offer workshops and seminars to teach skills that can help families cope with life's ups and downs.
Why Switch to a Career in MFT?
Marriage and Family Therapy is one of the fastest-growing mental health professions in the United States. The Bureau of Labor Statistics predicts employment for MFTs to grow at a rate of 14 percent from 2021 through 2031. This growth is expected to be driven by an increase in demand for mental health services among children and adolescents, as well as adults who suffer from anxiety disorders, depression, substance abuse, and other conditions.
The field of mental health counseling is constantly changing and evolving as society changes and evolves, making it a career with endless opportunities for continued learning and growth. If you are feeling stuck in your current job and are ready for a change, here are 3 reasons to consider a career in marriage and family therapy.
1. A Strong Outlook For Job Security
The field of psychology has grown rapidly over the years. There are now more psychologists than ever before. In addition, the job outlook is very positive. According to the Bureau of Labor Statistics, employment opportunities for psychologists are expected to increase by 22% between 2018 and 2028.
There are plenty of different career paths you can take with a degree in Marriage and Family Therapy. In addition to working as a mental health counselor in a private practice, you could work in a wide variety of settings within the field of psychology:
School counselor: work with children (and their families) who may be struggling with behavioral disorders or other problems in school
Social service: work with social service agencies to help reunite children in foster care with their parents
Higher education: with a doctoral degree, work in higher education as a professor or program director in psychology departments
Clinical director: manage a clinical practice or mental health agency
2. Opportunities for Lifelong Learning & Professional Growth
With rapid advances in psychology and research on human behavior, there are endless opportunities for licensed therapists to continue their personal and professional growth.
Working in professional counseling means you are constantly exposed to new situations and perspectives. As you work to educate and guide your patients on healthy communication strategies, you will undoubtedly gain insights into your own life and relationships.
You'll also be expected to keep up with advances in research and best practices, meaning you'll have plenty of opportunities to advance your knowledge in social justice, trauma recovery, or any other areas of interest.
3. A Rewarding Career You Can Be Proud Of
Research indicates that in post-pandemic America, only 20% of U.S. workers feel passionate about their jobs. However, the fields of education and psychology are two of just a handful of careers where over 90% of workers feel that their work is meaningful.
Working to help individuals who suffer from mental illness, trauma, or complicated family dynamics may be heavy work at times, but knowing that you've made a profound difference in the lives of others is one of the most rewarding things you can get from your work.
MA in Marriage and Family Therapy
While the exact details vary from state to state, you must have the appropriate degree beyond a bachelor's degree, have a certain amount of clinical experience, and meet the requirements for licensure to become a marriage and family therapist.
MFT programs are available as online programs, in-person programs, or a hybrid of both.
Degree Information
Regardless of the undergraduate degree you hold, you must have a master's degree to become a licensed professional counselor. You can consider a graduate degree program in either an MS or MA in clinical psychology with an emphasis in marriage and family therapy. Some therapists also continue through a doctoral program to obtain a PsyD in clinical psychology.
License Requirements
In addition to meeting the educational requirements needed, you'll need to meet the proper licensure requirements to become a mental health counselor. Licensing requirements vary from state to state, but usually include a certain number of clinical hours to be completed, as well as one or more licensure exams.
Work With Couples and Families by Earning a Master of Arts in Marriage and Family Therapist Degree (MFT Degree) From Pepperdine University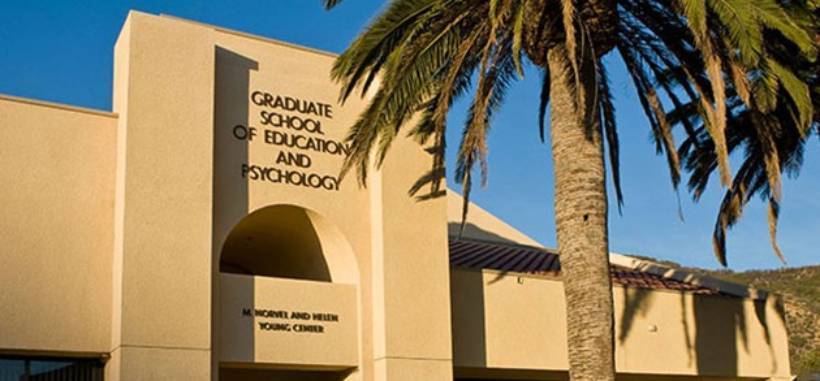 At Pepperdine University Graduate School of Education and Psychology, we offer a MA in Clinical Psychology with an Emphasis in Marriage and Family Therapy, as well as a MA in Clinical Psychology with an Emphasis in Marriage and Family Therapy in Latinx Communities. The Marriage and Family Therapy program offers both daytime and evening formats.
The programs prepare students to work with individuals, couples, and families as a licensed Marriage and Family Therapist (MFT). You'll explore the social and psychological implications of socioeconomics and how poverty and social stress affect the ability of individuals, couples, and families to thrive. You'll have the opportunity to participate in supervised learning in clinical settings starting in your second year.
To apply, you'll need to meet the appropriate undergraduate academic requirements, as well as submit 2 professional letters of recommendation, transcripts from your undergraduate degree, and a statement of purpose. To read more about the full requirements for the graduate program, click here.
If a career switch is on the horizon for you, consider a graduate program at Pepperdine University to obtain a degree in Marriage and Family Therapy. You're sure to find a rewarding career in mental health counseling.