Welcome Admitted Students
Congratulations on being admitted to the Pepperdine Graduate School of Education and Psychology (GSEP). We are humbled that you are entrusting us to be a part of your academic journey and we look forward to providing you with an educational experience that is innovative, immersive, rewarding, and values-based.
Since 1971 GSEP has been carrying out our mission to be an innovative learning community where individuals of diverse cultures and perspectives work collaboratively to foster academic excellence, social purpose, meaningful service, and personal fulfillment.
As exemplified by our predecessors, this mission continues to inspire us today as we prepare future generations to influence individuals and communities, both locally and globally, to transform into the best possible expression of themselves. With your help, this mission will continue to endure, grow, and thrive.
Please reference the following next steps to help ensure you are prepared to start your program.
---
Accepting Your Offer Next Steps
Activate your account on WaveNet, Pepperdine's student information system.

Your WaveNet activation email was sent to you after you submitted your application.
If you need your WaveNet activation email resent, please contact gsep-admissions@pepperdine.edu

Fill out and return your intent-to-enroll form. This is an eSign document sent to your email.
Pay your non-refundable tuition deposit.


Log on to WaveNet.
Hover over the "Applicant Service" tab and click on "Applicant Center."
Look for the "Finances" section toward the bottom of "Applicant Center."
Look for the "My Account" section under the "Finances" section, and then look for the "Make a Deposit" option.
Enter the amount specified on the first page of your intent-to-enroll document. Nothing will show as due.
You may also follow this link to a video with instructions on paying the deposit

After submitting the intent-to-enroll form and deposit, you will receive an email to accept the Google mail agreement. Accepting the agreement will activate your Pepperdine email account. Please remember that your Pepperdine email address is the official email used by the University; check it often for important messages and announcements about your program.
By completing the intent-to-enroll form and deposit, you will be accepting your offer of admission and will hold your seat in the program. Prior to registration, you will hear from your academic advisor who will assist you with enrolling in classes and introduce you to key program guidelines such as policies and procedures.
---
New Student Resources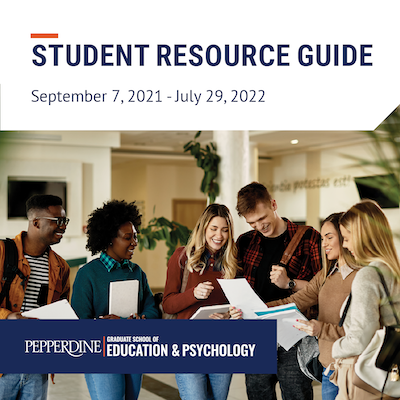 The Student Services Office strives to empower, encourage, and educate students for success. Please view the Student Resource Guide to learn how to utilize the services at the University to maximize potential opportunities and fulfill your professional and personal goals.
Important Links
---
Financing Your Degree
GSEP generously offers over 5.5 million dollars in scholarships every year, not including Pepperdine institutional or external scholarships. The majority of GSEP students benefit from our financial aid programs. We strongly encourage you to speak with your Enrollment Officer about the many scholarship opportunities available for new students.
Our staff in the Financial Aid Office is available to answer any questions you may have about the financial aid application process, as well as help you navigate the details of funding your education at GSEP.
---
Contact Us