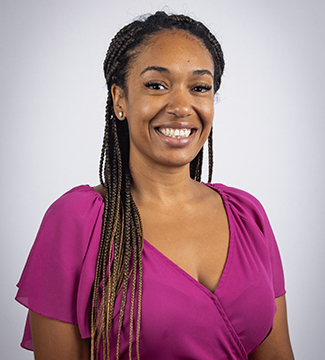 Veronica Eyo
Adjunct Professor
Online Psychology
, Graduate School of Education and Psychology
Biography
Dr. Veronica Eyo is a Licensed Clinical Social Worker in the state of California. She received both her Master's in Social Work and Doctorate in Education from the University of Southern California. She began her training working with homeless individuals at Skid Row and eventually transitioned into working with adults.
Dr. Veronica Eyo currently maintains a private practice in Los Angeles where she specializes in working with mothers, new and seasoned, in navigating the challenges of parenthood. She has worked with clients throughout different stages of life, however, transitioned her practice to working with mothers, specifically mothers of color, after she became a mom and noticed a lack of representation in therapists during her personal healing journey. Dr. Eyo is a certified Fair Play facilitator and actively implements it into her work with clients to create more equity in their relationships to allow space for their professional and personal goals. Dr. Veronica offers services in English and Spanish. Additionally, she is certified in Interpersonal Psychotherapy (IPT) and Cognitive Behavioral Therapy (CBT).
Outside of offering direct services to clients, Dr. Veronica has been a guest on several podcasts discussing topics about navigating various aspects of motherhood and equity in relationships. Dr. Veronica conducts corporate workshops and speaking events to speak of mental health and FairPlay in the workplace. Additionally, she has written blog articles on managing mental health.
Education
EdD, University of Southern California
MSW, University of Southern California