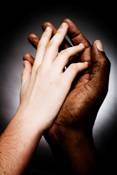 The Diversity Council Speaker Series welcomed a panel of speakers to discuss "Promoting Social Justice; Confronting Racism and Homophobia." The event took place on Tuesday, March 24, 2009 at the West Los Angeles Graduate Campus, and was broadcast to the Encino, Irvine and the Westlake Village Campuses.
Panel members presented their views on promoting social justice - concentrating on groups that have traditionally been marginalized by society; including minority races and religions, as well as the lesbian, gay, transgender and bisexual community. To read a recap of this event click here. After their comments a question and answer session commenced; which included questions from all four campuses.
Panel Members
Robert R. Cargill, Ph.D.
Dr. Cargill received his Ph.D. in Archaeology as well as Near Eastern Languages and Cultures and a Master of Arts in Ancient Near Eastern Civilizations from the University of California, Los Angeles. He also attended Pepperdine University, where he received a Master of Science in Ministry and a Master of Divinity. Cargill defines himself as an Academic Christian. He holds the view that Proposition 8 is not a judgment against homosexuality or homosexuals, but a referendum on the civil benefits of same-sex marriages, with no effect upon the doctrines of any religious group. Cargill is also the Chief Architect and Designer of the Qumran Visualization Project, a real-time virtual reconstruction of Khirbet Qumran, the site associated with the composition of the Dead Sea Scrolls.
Naveen Jonathan
Naveen Jonathan is a licensed Marriage and Family Therapist and current student in the Doctor of Philosophy in Marital and Family Therapy program at Loma Linda University. He teaches as an adjunct professor at Alliant International University, Pepperdine University, Chapman University, John F. Kennedy University and California State University, East Bay. Jonathan has written a chapter titled, Carrying Equal Weight: Relational Responsibility & Attunement Among Same-Sex Couples, for a book edited by Carmen Knudson-Martin, Ph.D., titled Transforming Power: How Couples Move From Gender Legacy to Gender Equality, (Springer, 2008). He is a member of the American Association for Marital and Family Therapy, California Association of Marriage and Family Therapists, and the National Council on Family Relations.
Carolyn A. O'Keefe, Psy.D.
Carolyn O'Keefe received a Psychology Doctoral degree from the Pepperdine University, Graduate School of Education and Psychology (GSEP). Her dissertation is titled, Mentoring Sexual Orientation and Gender Identity Minorities in a University Setting. She has presented at several conferences, including the Multicultural Research Conference at GSEP where her presentation title was, Gaining Competence in Working with Lesbian, Gay, Bisexual and Transgender Clients. O'Keefe currently works as a staff psychologist at California State University, Long Beach. She also teaches as an adjunct faculty member in the psychology division at GSEP.