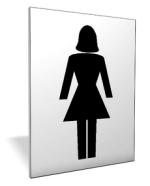 The June 9 event brought together three prominent women in education. The program focused on how the "glass ceiling" is no longer an accurate metaphor for the limits women face. A better descriptor is a labyrinth – several paths leading to varied destinations. Women continue to find obstacles within the labyrinth and often do not reach their end goals at all. Three female panelists discussed their perspective on the labyrinth journey, as well as anecdotes from their own personal journey.
Panelists included Dr. Margaret Weber, dean of GSEP; Tabatha Jones Jolivet, the associate dean of student affairs at Pepperdine University Seaver College; and Mónica García, president of the board of the Los Angeles Unified School District, the second-largest school district in the nation. Dr. Thema Bryant-Davis, associate professor of psychology, served as moderator.
Mónica García
Mónica García was elected to the Los Angeles Unified School District's Board of Education in June 2006, becoming the third Latina to serve on the Board in its 155 year history.
As a board member, she gives voice to the hundreds of thousands of children and families that rely on education for access to good jobs, healthcare and a sustainable quality of life. In affirming her commitment to a quality and equitable educational system, García supports initiatives that provide all students access to a college preparatory curriculum and to career and technology pathways. She has earned a reputation as a bold, optimistic, and aggressive leader in education reform.
García was born and raised in East Los Angeles. She attended local schools and graduated from the University of California, Berkeley with Bachelor of Arts degrees in Chicano Studies and Political Science. She later earned her Master's in Social Work from the University of Southern California.
Tabatha Jones Jolivet
Tabatha Jones Jolivet is the Associate Dean of Student Affairs at Pepperdine University, Seaver College, where her applied work is college student administration. She holds a Bachelor of Arts in Humanities and Master's degree in Religious Thought from Pepperdine University, where she teaches part-time, co-chairs the University Diversity Council, and chairs the Access and Equity Sub-committee of the Seaver College Diversity Council. She is doctoral student in the School of Educational Studies at Claremont Graduate University, where she recently completed coursework for a PhD in the subfield of higher education.
Her research interests involve Critical and Sociocultural Issues in Postsecondary Education, which include: the study of access, equity, and social stratification in postsecondary education; intersectional analysis of race, gender, and class, Critical Race Theory, and Womanist perspectives in education research; social and cultural capital and forms of cultural logic; student and faculty engagement. She is committed to critical community engagement, advocacy, and ministry. She tutors children from undocumented and low-income families on a weekly basis at a local Title I elementary school; is an active member of the Los Angeles Chapter of the Association of Black Women in Higher Education (ABWHE); and co-leads the women's ministry at her local church.
Jones Jolivet speaks regularly on topics related to postsecondary education, and was recently the keynote speaker at the Fulfillment Fund's Destination College 13, a community-based educational program for low-income students in the Los Angeles area. Currently, she is a Research Associate for a national study, The Project on the Future of the Academic Profession. Jones Jolivet is also part of a research team studying work-life issues for women. Ultimately, she is committed to a critical education agenda that promotes solidarity with local communities and the pursuit of social justice.
Margaret Weber
Margaret Weber leads faculty and students in an academic community of interactive learning and practice at the Pepperdine University Graduate School of Education and Psychology. As an administrator and strong advocate of the scholar-practitioner model of learning, which educates students in theory as well as practical application, it has been Weber's priority to go beyond simply managing students and faculty. Her purpose has been to nourish and enrich professional development and academic competencies in others.
Weber participated in the fourth annual Session on Women's Leadership at Exeter College of the University of Oxford in 2007. The Oxford Round Table invited a small interdisciplinary group of individuals who share a common concern for women's rights. The Round Table considered topics of social, religious, and cultural practices that restrain women's achievement of leadership roles in the modern world. Weber's presentation was titled, "Leadership Perspectives: Faith Influences on Women."