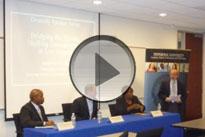 The Diversity Council Speaker Series turned its attention to the evolving composition of Los Angeles' communities. On Wednesday, November 4 the speaker event titled Bridging The Divide: Shifting Demographics In Los Angeles, covered the change that has taken place in Los Angeles from 1940 to present and how this has impacted relationships between populations and the city's social and economic development.
Dr. Anthony Collatos, assistant professor of education at GSEP, lead the panel discussion with maps and a historic overview of Los Angeles' population beginning in the 1940's. Tracking the migration of different ethnic populations, Collatos brought the group to present day, where his fellow panel members, Mary Johnson, chair of the Los Angeles Unified School District Parent Collaborative; and Donald E. Grant, Psy.D., psychologist; shared their personal stories as firsthand witnesses of LA's progress and shortcomings, and how the changes affect it's residents.
An Interview with Dr. Anthony Collatos
GSEP: What inspired this event?
Collatos: Many communities in Los Angeles County have experienced dramatic demographic shifts over the past 20 - 30 years. These shifts are directly tied to social, cultural, and economic events within the communities. As many of our students participate in student teaching and practicum in these areas, and many more of our students will work in these settings following graduation, it is important to GSEP that we provide a context that can help the students and alumni have a successful experience.
As both educators and health care providers, our students should be aware that schools and clinics do not exist in a black box, and that demographic shifts have direct implications for these neighborhoods. If we can help students recognize these shifts, and create spaces for a dialogue to bridge the divide that occurs when communities experience a sudden transformation – especially across race and economic status – the students will feel more comfortable providing service in these settings and have a more positive impact on the families they touch. This event is directly in line with the goals of the GSEP Diversity Council and the GSEP Urban Initiative.
GSEP: Who will be sharing a personal story?
Collatos: I have given an abbreviated version of this presentation to master of arts in education with teaching credential (MAETC) students for many years. In order to broaden the scope of the presentation we decided to include some representatives from the communities we are discussing. People who have witnessed firsthand the changes we will be discussing. They can give their impressions of the shifts they have experienced, both as a local resident, and as an expert in the educational sphere.
Mary Johnson, president of nonprofit advocacy group Parent U-Turn and the chair of the Los Angeles Unified School District (LAUSD) Parent Collaborative representing almost 700,000 students, will be one of our panelists. A long-time resident of South Gate, Johnson will tell her story of navigating the divide of the "Alameda Corridor," as well as her efforts to unite African American and Latino parents of LAUSD students.
GSEP: What is the relevance of this topic to the Pepperdine community?
Collatos: Without a doubt, educators and mental health professionals are important components of any community. They provide necessary services and directly influence how a community grows and prospers. But to truly be helpful, students must understand the history of the families living in the community. How did they arrive there? What are their trades and skills? Who are their allies and where are their tensions? What resources do they have, in terms of jobs, healthcare, industry, and even local leadership at the school or city level?
By best equipping our students with the tools to work with diverse cultures in a changing landscape, our students can best fulfill the Pepperdine mission of purpose, service, and leadership. And GSEP can bolster its Urban Initiative, by expanding our partnerships and providing more robust services for our partners.
GSEP: What do you hope that attendees will take away?
Collatos: Ultimately, our goal is to help attendees obtain a better understanding of how demographic shifts can impact schools and mental health agencies in a fundamental way, in terms of resources and in terms of culture. We hope that attendees will be inspired by the efforts of our University to reach out to these communities and bridge the divide by creating spaces for all stakeholders to have a voice.