On Friday, October 21, 2011 GSEP hosted the 10th annual Celebration of Excellence event at the Ayres Hotel in Manhattan Beach. This year's event highlighted the efforts made to prepare GSEP students with the skills to work effectively in culturally diverse, under-served urban communities for the long-term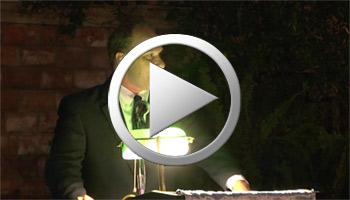 Event Reception

Our reception will feature Dr. Anthony Collatos, associate professor of education, leader of the Urban Parent Teacher Education Collaborative, Youth Empowerment and Research Seminar, Riordan Extreme Leadership Program, and partnership coordinator for the Los Angeles Unified School District.
"It is not only about having a presence in our academic community. It is about making a difference in our actual community, outside the walls of the classroom." – Dr. Anthony Collatos
Dinner and Program
The dinner program will honor Ms. Betty Rengifo Uribe, Pepperdine donor, alumna, and current doctoral student; a financial services senior executive; and president of Hispanic Outreach Taskforce. As a passionate donor to the Graduate School of Education and Psychology and current student in the doctor of education in organizational leadership program, Ms. Uribe will share from her unique position regarding life-changing education and a commitment to the next generation of leaders
"Ten years ago, I chose Pepperdine Executive M.B.A. program for their academic an faculty excellence, to expand my career in business. Now at GSEP as a candidate for a doctoral degree, I have found the academic and faculty excellence in the Organizational Leadership Program have been a catalyst for transforming my life as a leader, woman, wife, mother, and simply someone like many in my cohort, an individual with a passion for making a difference. I can't think of a better place to gain the education that will support me in my vision to make this world a better place, one person at a time." - Ms. Betty Rengifo Uribe
---
The 2011 GSEP Waves of Service Award will be presented to Dr. Earnestine Thomas-Robertson a recipient of three degrees from Pepperdine; Dean Emeritus at Los Angeles Southwest College; and president of the City of Los Angeles, Los Angeles-Lusaka Sister City Committee.
The Waves of Service movement celebrates, supports, and connects Pepperdine alumni committed to volunteerism and careers of service worldwide.